Effectively managing social media accounts isn't easy, and organization is key. Whether you manage multiple channels for a variety of clients, or you're just trying to make your cat Insta-famous, planning and keeping track of all your content is vital to a solid social media strategy. 
There are countless tools out there to help with social media content management, and it can feel overwhelming or intimidating when searching for the right one. We've tried a ton of platforms, and it really comes down to what works best for you and your team. 
For us, it's Trello. 
This platform offers a simple, visual way to organize and plan your content for social media. Trello's boards, lists, and cards can be set up in countless ways based on your preferences and needs. Really, the possibilities are endless, but we're here to share some of the ways we use this platform specifically for social media management.
Let's start with the Trello basics.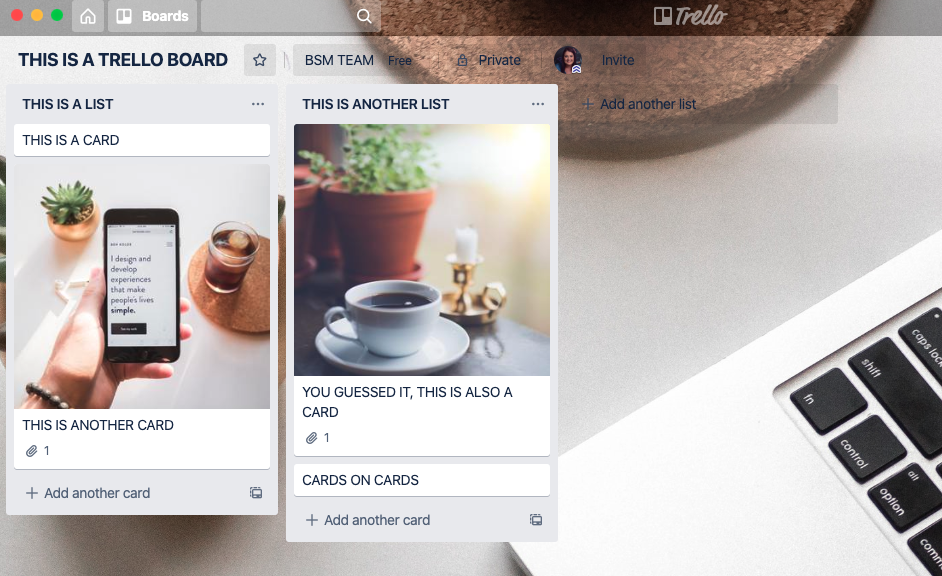 It's pretty simple, actually. Trello boards are made up of lists and cards. 
You can set up different board for specific clients, content types, or functions. These boards are where you organize your tasks/projects and collaborate with your team to get the job done. 
Lists on boards can be used to create a workflow in which cards are moved (yep, you can click and drag cards!) across lists from start to finish, or just act as a place to keep track of ideas and information. There's no limit to the number of lists you can have on a board, and they can be arranged any way you want.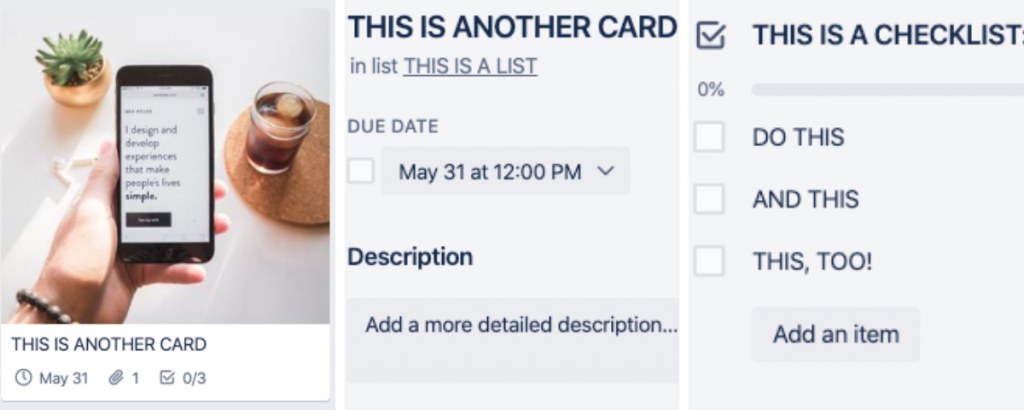 Cards are used to represent tasks and ideas. A card can be something that needs to get done, like a Facebook post, or something that needs to be referenced, like brand colors or fonts. Cards can be customized to hold a wide variety of useful information. By clicking on it, a card is. opened up to include a description, due date, checklist, and more. You can also add colored labels to categorize your cards any way you want. 
So, how can you use this for social media management?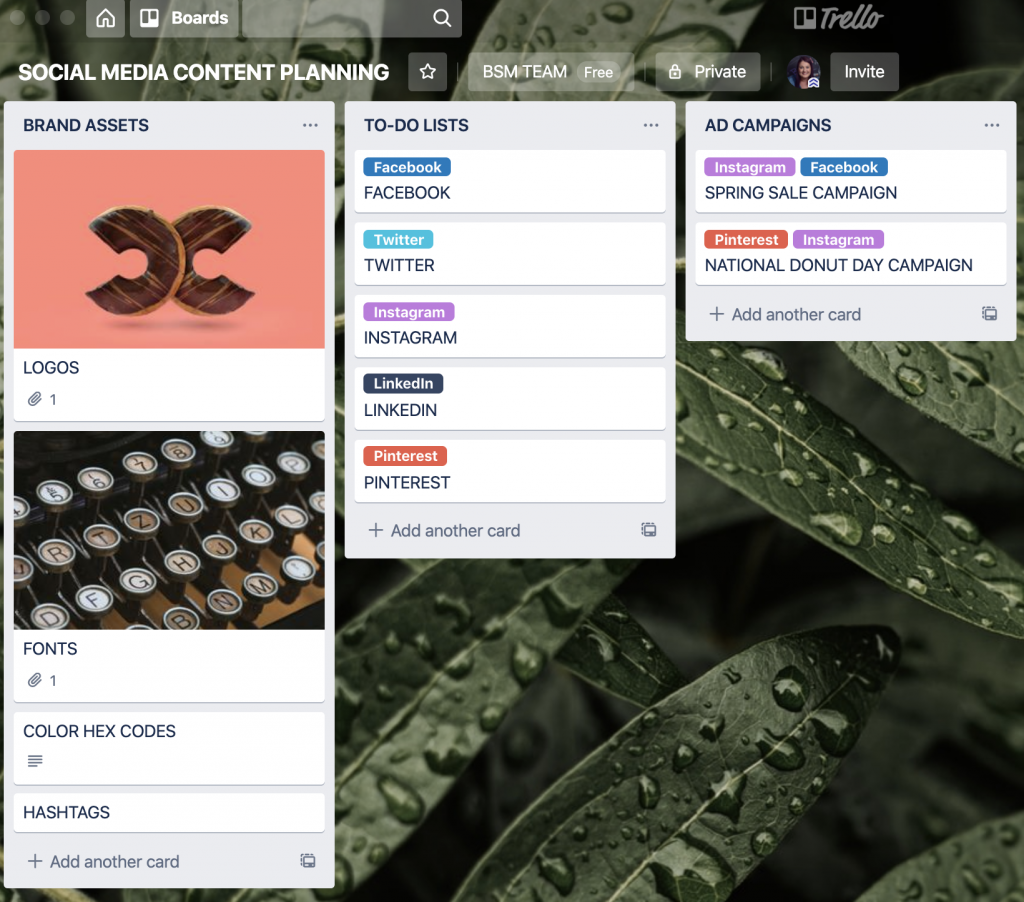 We suggest creating a Trello board for each brand or client to keep all of the content and assets organized in the same place. You can add relevant team members, which allows you to collaborate and assign tasks to them. 
There's not a formula for the perfect Trello board, but there are certain elements that you should definitely include. An effective social media management board is a combination of asset reference, content planning, and workflow management.
Asset Reference
Create a list for all the brand assets used to create social media graphics and posts. This could include logos, fonts, colors, and hashtags. Having this all in one place ensures brand consistency across all designs, regardless of who is creating the content. Any team member needing these assets can download and use them wherever they're accessing the board.
Trello even has this cool feature when you include hex codes, so you find the exact color you need. 
Content Planning
This is the most important aspect of a social media management Trello board. Setting up lists to help you plan and organize your posts will ensure you have a solid content strategy and schedule. Of course, this can be set up and arranged in a way that works best for your team, but here's what works for us:
1. Create a list for general content planning. Each card on this list is an idea for a social post. You can include some initial thoughts on copy, a checklist for what needs to be done for the post, and labels for which channels it will be posted on. If you're posting a piece of website content like a blog post, you can include the link in the card as well.
2. Create a list for each social media platform the brand uses. The cards you created in the planning list can be copied into the corresponding channel list. There, you can adjust copy and upload specific graphics to ensure each post is optimized for whichever channel it will be posted on.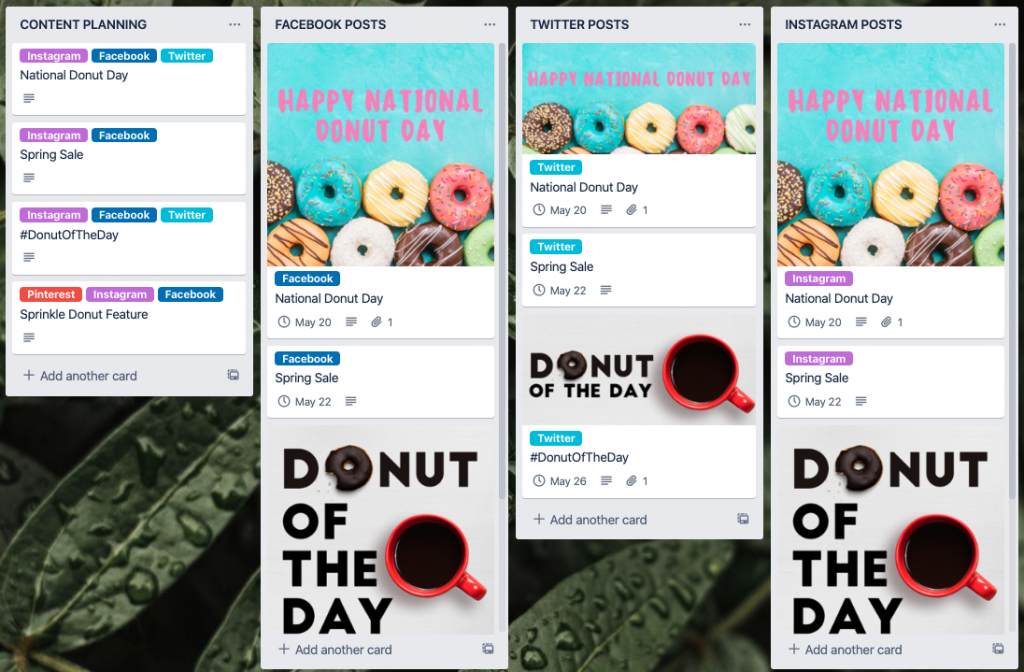 3. Assign due dates for each post, and utilize the calendar power-up to get a month or week-long view of your social media content plan.

Workflow Management
Once your posts have been planned and created for each channel, you can move the cards through a workflow as the content is posted. You can assign cards to team members who may need to review or post the content.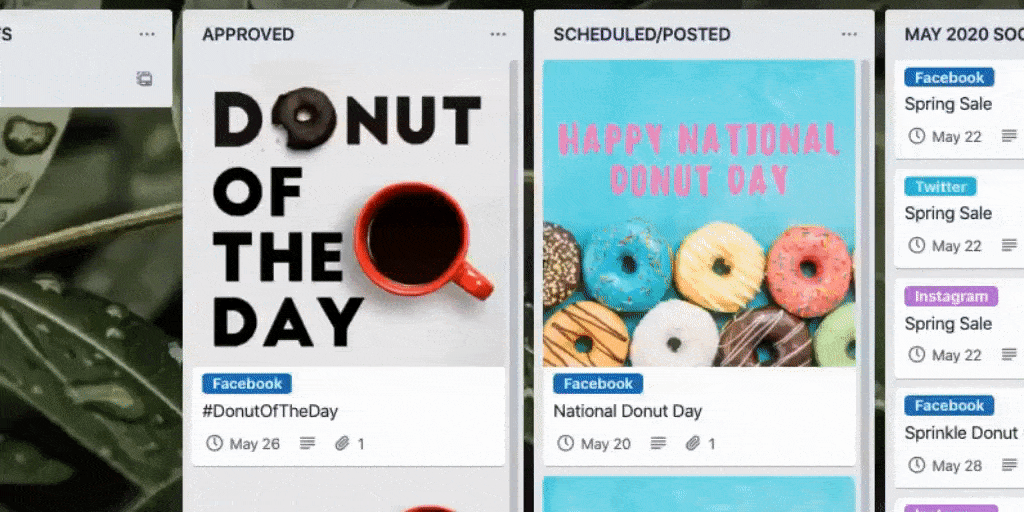 Click and drag the posts from their channel lists once they are approved for posting and when they are scheduled or posted. As your team works together to create, plan, and post, you can leave comments for each other for a truly collaborative experience.
In order to keep everything organized, move cards that have been posted into a list for that specific month. As time goes on, you will have a record of everything that has been posted on social media each month of the year.
Whew, that was a lot.
Yeah, we know. But, once you get all your Trello boards set up and start working in them, your social media management game will be next level! You may even start utilizing the platform in other areas of your business or life (we definitely have). You can explore tons of board templates to see the limitless possibilities. 
Social media management is an essential, time-consuming part of any effective marketing strategy. If you need help optimizing your accounts, regularly creating/posting social content, or running ad campaigns, the Big Slate Media social media team would love to help you out!