Here we are… a drone blog. Never imagined you'd be here did you? Yet here you are. Nerding out and talking about flying cameras. Welcome… 
We thought it'd be cool to share with you some of our experience and opinions when it comes to our aerial film and photography gear and techniques. It's no secret that we're a company that loves our drones. In fact, Big Slate Media was founded as an aerial film and photography company in the summer of 2015. 
Our founder Jonathan Halley was one of the first licensed drone pilots in Knoxville. Even before it was regulated and required a Remote Pilot License, Jonathan obtained a Sport Pilot License for Powered Parachute (PPC) and filed for an 333 exemption to operate commercially during the "Wild West."
HEY GUYS, WHICH DRONE SHOULD I GET?
We get tons of questions about which drones to buy for professional filmmaking. In our opinion, DJI is by far the most reliable, user intuitive, safe and professional drone manufacturer in the business. They make a wide range of products that will serve everyone, from the hobbyist with a few hundred dollars in their pocket to a feature-film drone operator. 
If you're wanting to get your first drone and take your video skills to a… "higher level"… buy something you can afford to crash. Because you will. Especially early on, it can be hard to maintain perspective while flying resulting in you not realizing that tree is closer than it appears. 
Our first commercial drone was the DJI Phantom 3 Pro. These drones are great and come with all the technology you'd expect: Return-To-Home, GPS lock, and tons of in-app features that make flying really easy. Plus, they're cheap; $500 should get you a decent set up. However, these days, we'd recommend the Mavic series to any pro looking to up their game. These drones are portable and have amazing battery life – two things we think make it worth the extra coin.
In 2018, we made the switch to the Inspire series from DJI. These drones (Inspire 1 and 2) enabled adjustable aperture and 10-bit color depth. Additionally, we have the option to upgrade the camera and swap lenses. These features were a must for us to help match the shots to our other cameras and also create a uniquely high-end look.
GETTING THAT CINEMATIC LOOK
We're big believers in using our gear to its fullest capacity. The biggest "tip & trick" we could offer up when it comes to getting cinematic drone shots is this – use all three axises in your three-axis gimbal. Meaning, a great shot is one that is moving forward/backward, up/down, left/right and pitching the camera up/down in one fluid motion. This isn't written in stone, but it's something we definitely consider when trying to get the most creative shot we can. 
Aside from movement, make sure your settings are correct. Your shutter speed should double your frame-rate, make sure your aperture isn't too-low and use a gosh-darn ND filter so the sky isn't blown out on a dark subject. Those may seem like common sense, but they really are essential to getting a great looking image.
DRONE NO-NOS
1: No BUMPS – if there is a bump or you stop one axis during the shot, scrap it and do it again. The best looking shots are smooth and complete, not jittery or jerky. 
2: No illegal operations – just don't do it. Jonathan will be the first to admit that he's bent the rules a few times, and it's gotten him in trouble with the FAA. It's never worth it and in the end, you'll just ruin the hobby for everyone else. Know the laws so you don't break them. Ignorance is no excuse.
3: Maintain your batteries – Make sure you're not operating a damaged or bloated battery. These things can literally explode like bombs. Also, don't run your batteries all the way down to nothing. Lithium batteries don't like that, and they'll never be the same. It's best to leave 10-15% on them.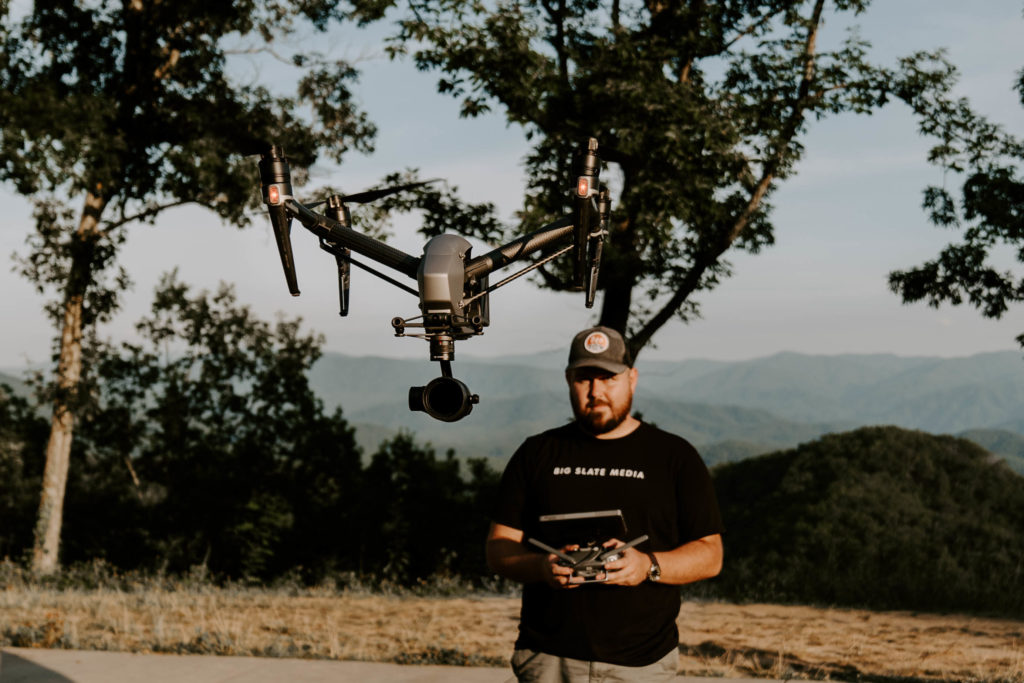 10 QUESTIONS DRONE PILOTS ARE ALWAYS ASKED:
1: How high will that thing go? 
A: Legally, we can go to 400 ft AGL (actual ground level) or 400 feet taller than any building/structure we are within 50 feet of. However, most of our drones will go to 1,600 ft AGL. 
2: How long does the battery last? 
A: Between 15-27 minutes depending on the winds and how hard we are pushing it. 
3: How far can you fly that puppy? 
A: With a 5-pound puppy, we can fly a mile or more before we start losing signal. However, we must be able to maintain line of sight or use a Visual Observer to report the drone position (Note: we can fly the same distance without a puppy).
4: How much does that thing cost? 
A: Roughly $5,000. 
5: What happens if you lose connection? 
A: It will fly back and auto-land exactly where it took off. However, most of the time connection is re-established before it gets all the way back. 
6: Do you have to have a license to fly that thing? 
A: Yes, for commercial purposes the Remote PIC (remote pilot in command) must have a sUAS Remote Pilot License. However, anyone can operate the drone under the direction of a Remote PIC.
7: Can you spy on my neighbor? 
A: I suppose, but the camera angle is really wide and you can't zoom in. So unless we get within 50 feet of them, you can't really see what they are doing. And trust me, they'll know we're there. This thing sounds like a swarm of bees. 
8: Do you have insurance? 
A: Absolutely. We carry insurance that covers the drone as well as liability insurance. 
9: Can you see what it's looking at right now? 
A: Yup, we have a 1080p feed with very low latency. We can also send that signal to any TV, live stream to Facebook or to a broadcast truck (like we did for the Bassmaster Classic). 
10: How long have you been flying? 
A: Our pilots have a combined 10+ years of experience doing aerial filmmaking.
Wanna make a sick drone video with us or have any other questions about aerial videography? Drop us a line!